Need a Bathroom Remodeler?
Boise Bathroom Remodeling
Professional Bathroom Renovations for Boise, Idaho, Homeowners
What we do
Installations, Repairs, Custom Builds, & More
Bathroom Remodel
Do you have an older bathroom that doesn't really reflect your sense of style? Being comfortable in your own bathroom is an important part of home ownership and simply enjoying yourself. The right Jacuzzi tub or luxurious walk in shower can make all the difference after a tough day. Our team includes expert plumbers, tilers, and bathroom designers who can quickly turn around your bath remodel project.
New Bathtub
When customers ask for new bathroom ideas, they often want an upgrade that won't hit them too hard in the pocket. Your project starts with a consultation with a professional bathroom planner. Once we learn about your needs and what you're looking for, we can create the custom bath design of your dreams.
Walk in Bathtub
All of the options are available with our full-service bathroom remodeling team. Walk-in baths are our specialty. With a custom design and beautiful porcelain tubs, you can select the design that you like the most and we will take care of the rest. Our walk in tubs are of the best on the market and are built to assist all handicap customers in easy bathing.
Shower Remodel
Custom shower options make your bathroom into a masterpiece. If it's time to upgrade your shower with an amazing design, we offer the most modern conveniences and open space layouts to improve your bath experience. Our bath planners will look at all of the angles and update your older shower into a modern, easily-accessible glass enclosure with custom tile and beautiful glass doors.
Bath to shower
Many homeowners think that a bathroom remodel will break the bank, but that's not the case. With many clients, we direct them to a bathtub to shower conversion to save on time and money. Old tubs can grow mold and quickly go out of style, but a walk-in shower or glass enclosure can enhance the value of your home and make it easier to have a relaxing shower at the end of the day.
Walk In Showers
Are you looking for a larger shower with glass or frosted doors that is easily accessible? We create tiled walk-in showers with beautiful in-lays and storage options. Your shower could be a high-powered dream that lets you steam up and relax. It's the best way to unwind, and it's the perfect option if you need a larger master bath with two showerheads.
Jacuzzi Bathtub
Ah, it's time to light some candles and relax in your own Jacuzzi tub. With high-powered jets, multiple sizes, high-quality brands, and the best technology, you get to have an incredible experience every time you head to the bath.
Bathroom Remodeling Services
ACE Bathrooms is the bathroom renovations contractor that you can rely on to fully transform every bathroom throughout your home in Boise, Idaho.
We've spent more than 30 years renovating all sorts of bathrooms throughout Idaho, and we have the skills and expertise needed to bring about the bathroom of your dreams.
High Quality, Ethically Sourced Materials
Your Satisfaction is Guaranteed
Start with A Free Quote For Your Project
or call Now:
(208) 285-3906
"
Very few contractors know the residential construction business as well as Michael Kavin. Michael has built a successful construction firm based on integrity, quality and craftsmanship. I know his clients are pleased with the extraordinary service level and high quality product provided by Kavin Construction, and I can vouch for his integrity. Anawalt Lumber and Kavin Construction have doing business for over 40 years and I know that Mr. Kavin's clients are pleased they chose Kavin Construction.
"
We are experienced
We Have Over 15 Years of Experience in The Industry
A custom bathroom remodel not only enhances the comfort and livability of your home, it also creates lasting value. ACE Bathrooms has the bathroom remodeling experience and skill to create a bathroom retreat that is a valuable, luxury upgrade to your home, is energy efficient, and matches your personal style preference.
About us
Providing the Highest Quality Bathroom Installation In the Area
When you choose to work with ACE Bathrooms for bathroom renovations in your Boise home, you'll benefit from trusting a team capable of completing many different remodeling services, such as:
Customized cabinetry installation
Cabinet refacing
Granite countertop installation
Bathroom vanity installation
Lighting replacement
Flooring installation in your choice of hardwood, laminate, or tile
Bathtub and shower replacement
Walk-in tub installation
Faucet, sink, and showerhead replacement, with available options from manufacturers like Jacuzzi, Moen, and Delta
Toilet replacement
Modifications to existing plumbing, electrical wiring, and ductwork
And more
Not only will our team provide you with exceptional bathroom renovations, but we'll take the time to get to know you, treat you with the respect you deserve, and always keep a clean job site in your home. Doing that is something that we refer to as the ultimate bathroom remodeling experience, and it is of utmost importance to every member of our team that we provide that to each and every customer we serve.
If you'd like to learn more about ACE Bathrooms and the long list of bathroom renovations that our team can complete for you anywhere in Boise, Idaho, please contact us today.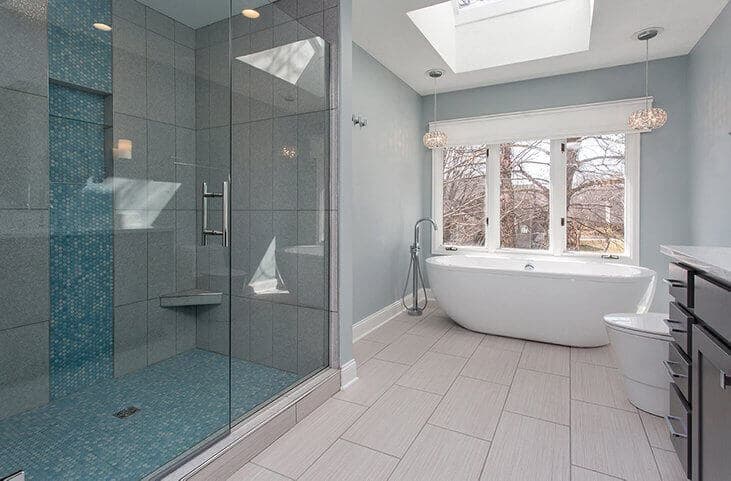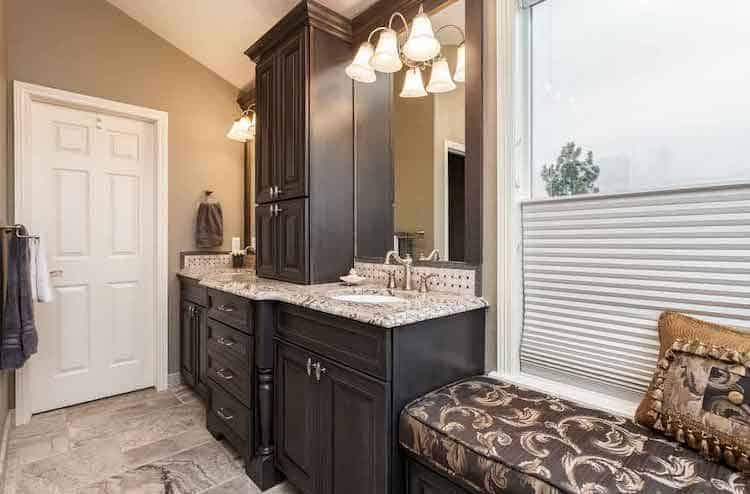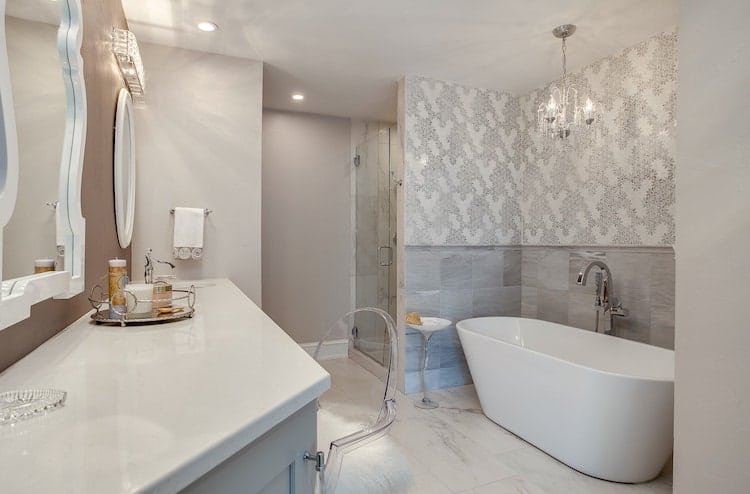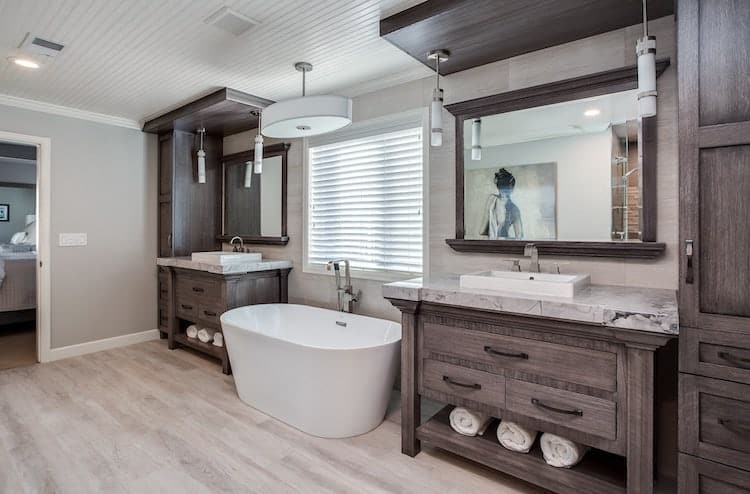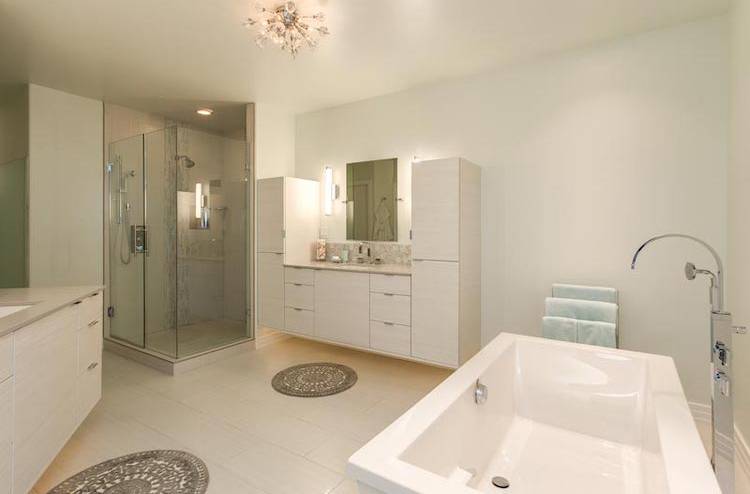 Boise Bathroom Remodel
Add a Unique Touch with Ace Bathrooms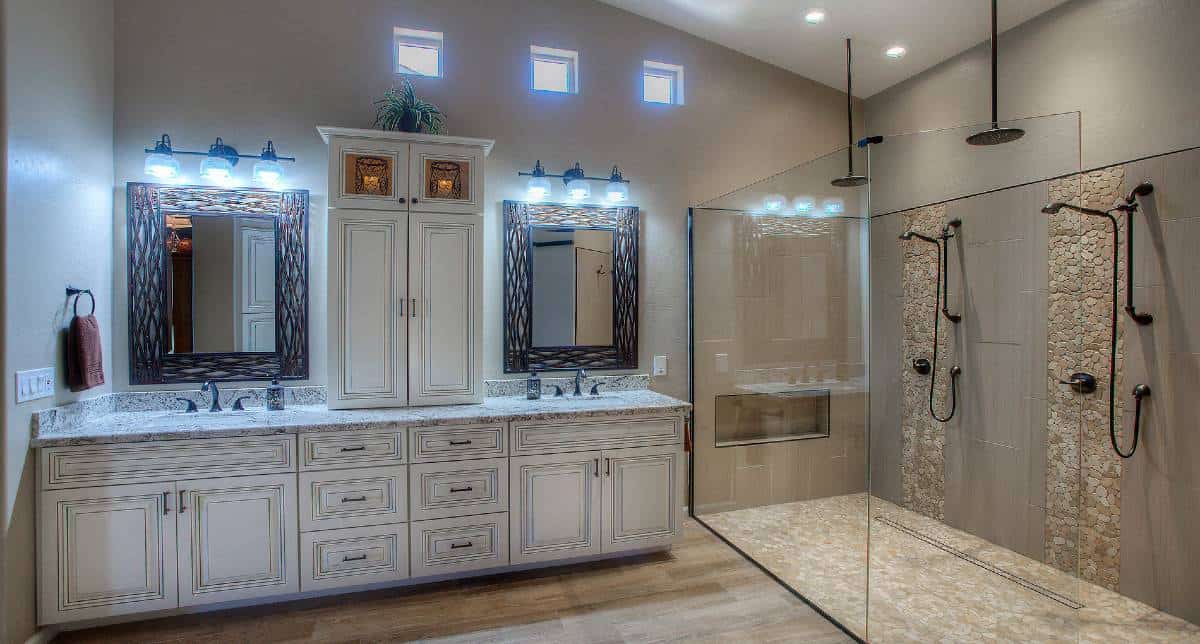 Bathroom Remodeling in Boise, Idaho
As a Bathroom Contractor Remodeling in Boise, ACE Bathrooms specializes in remodeling bathrooms, kitchens, and basements. Bathroom remodeling or refurbishing is arguably among the very best home remodeling investments you can make in your Boise house. Why is that? Bathroom and kitchen remodeling regularly brings the greatest returns on your financial investment compared to other home renovation projects.
If you asked most real estate agents, they will tell you that remodeling your bathrooms offers the homeowner one of the biggest bangs for their buck.
Perhaps you want to provide an old downstairs bathroom a facelift, maybe you have accessibility requirements and need a custom-made solution or maybe you want to add a bathroom where there never was one before!
ACE Bathooms can finish any size or scale of bathroom remodeling project.
With many materials and finishing options for your bathroom from floor covering, to vanities, to tubs, lighting, custom showers and more it helps to have an expert to make recommendations and assist you (the homeowner) so you can make educated choices.
At ACE Bathrooms we have substantial experience redesigning bathrooms in Boise homes. We make the homes better for the homeowner so that they can continue to enjoy the home that they love for years to come.
ACE Bathrooms's knowledgeable team will aid you in creating, planning and building a practical and gorgeous, dream bathroom space that could measure up to any 5-star hotel experience.
Do you wish to have a luxury spa style environment in your master bath with beautifully laid tile floors or maybe it's adding a skylight, a new vanity, double sinks or that huge soaker tub you have always wanted? We will assist you in selecting the perfect fixtures and colors then we'll put all of it together for you and clean up all the mess when we are finished.
F.A.Q.
Frequently Asked Questions
How long does a bathroom remodeling typically take from start to finish?
At the risk of sounding elusive, we really must say that "it depends." The scope of the bathroom remodeling dictates how long the project will take. For example, if you are relocating your fixtures and reconfiguring the room, the actual construction will obviously take a little bit longer. But, it is important to remember that moving fixtures will generally require building department permits, which will also add to the project time..
Read more...
Here's a sample timeline, for illustration purposes only, of a bathroom remodeling project that does not include relocating fixtures:
Meet with a remodeling consultant for a Free Design Consultation and get proposal – 1 week.
Meet at our showroom, finalize the scope of the project and the terms of a Remodeling Agreement – 2 to 3 weeks.
Select all the materials for the project – 1 to 4 weeks.
Materials are ordered and delivered – 3 to 6 weeks.
Demolition and removal of old materials and appliances – 1 week.
Installation of new materials and appliances, flooring, plumbing and electrical work, painting – 2 to 3 weeks.
Finishing touches and clean up – 1 to 2 weeks.
What do I need to do to prepare for my bathroom renovation?
You can start by getting a good idea for the type of look and style you want. If you don't know yet, look at some magazines, websites, or watch some home remodeling shows to get some design ideas. Then, contact us for a Free Design Consultation with a Remodeling Consultant. You will be instructed by your Remodeling Consultant as to what exact steps you need to take.
Read more...
But, generally speaking, before construction begins, you'll want to clear out the area being worked on of all your personal belongings that can be removed. Although, we cover the areas surrounding our work area, you'll want to protect your furniture from dust with plastic and/or sheets.
What is the typical workflow for a bathroom renovation?
Create design
Sub flooring
Countertop installation
Select materials
Floor tile installation
Medicine cabinet installation
Order materials
Electric wiring
Read more...
Light fixtures installation
Deliver materials
Wall preparation
Accessories installation
Demolition
Wall tile installation
Painting
Plumbing
Plumbing fixture installation
Touch up and cleaning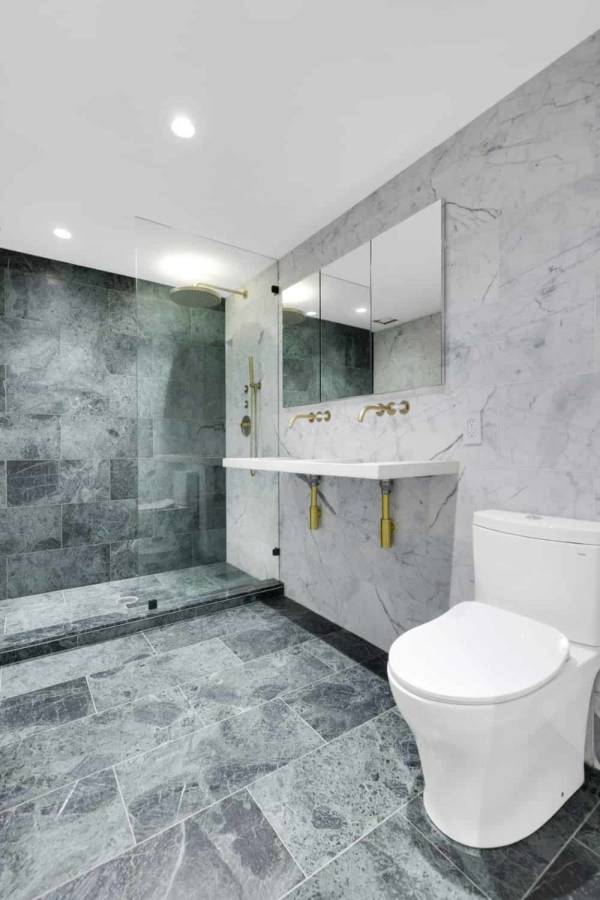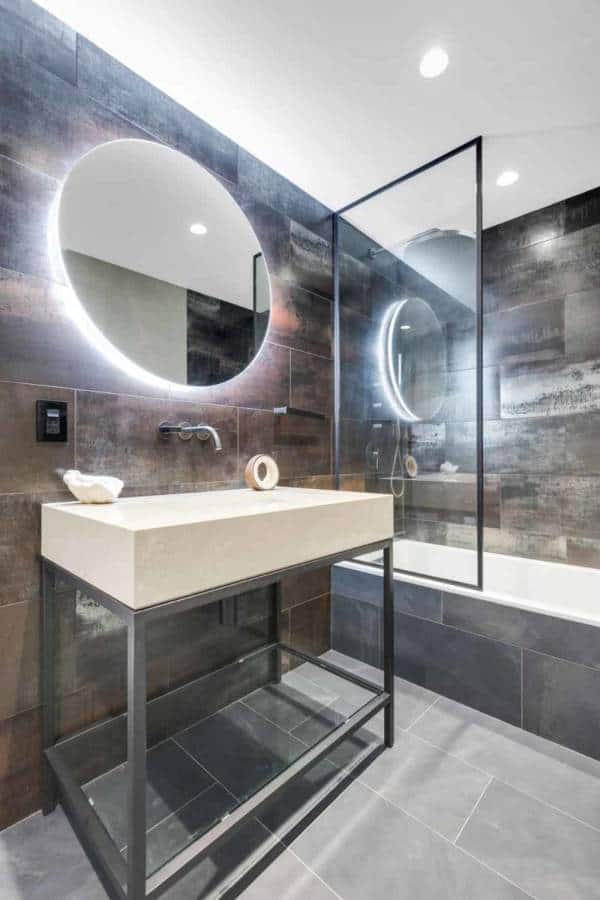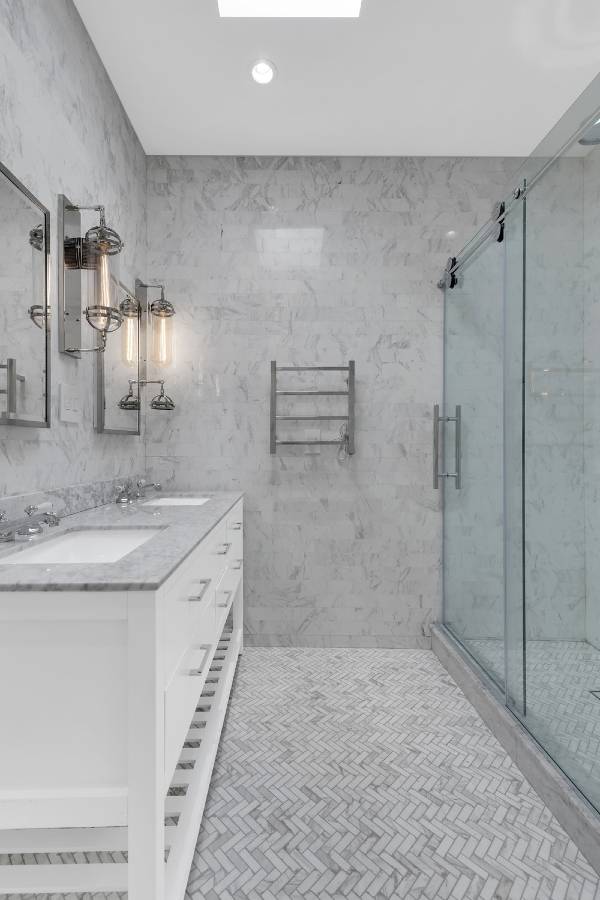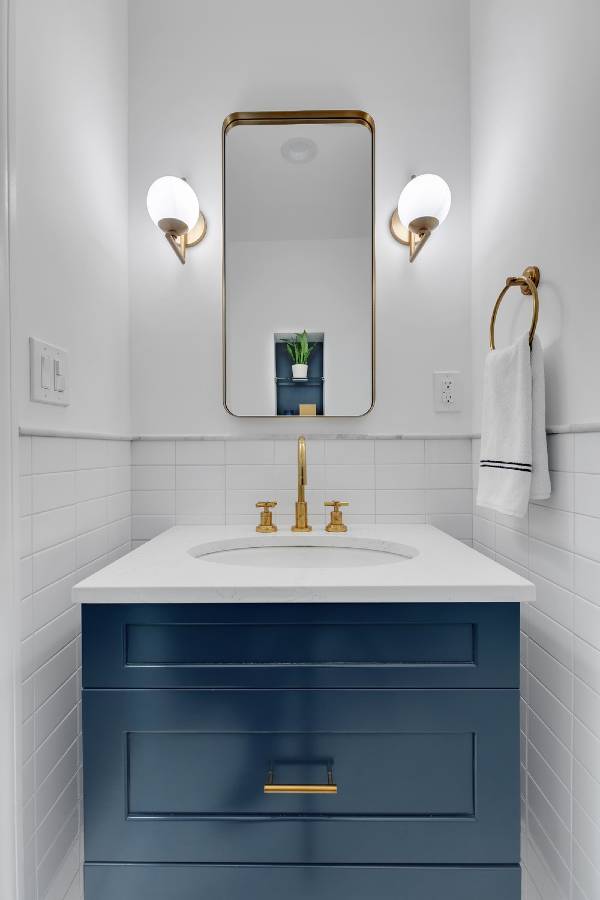 Message Us
Get In touch below. Ask Any Question or Start a Free Quote
Office Location
Boise, Idaho
Email
hello@bathroomremodelingboise.net